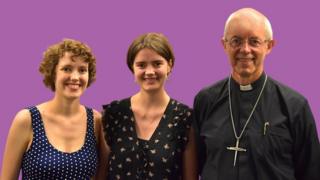 The Church needs to do more to hug disability and mental health, the Archbishop of Canterbury Justin Welby says, reaping on the experience of two of his daughters.
Justin – he holds we use his given name – reveals that Katharine's mental health rigors and Ellie's learning disabilities, had "really fetched it to the front of[ his] mind".
He was speaking to the BBC Ouch podcast, made by the BBC's disability team.
Sitting beside his daughters, Ellie, 24, and Katharine, 32, Justin encourages them to speak openly, even if it is difficult for him to hear.
He begins by taking Ellie's hand – this is the first time she has spoken publicly.
Taking part in a debate on exclusion with other disabled studio clients, Ellie says: "The church I go to now, I sit at the back because I don't genuinely feel comfortable.
"They're very friendly in my religion, but sometimes I can feel a bit out of residence there."
Archbishop hopes 'not to do Queen's funeral' Archbishop criticises grammar schools Media captionArchbishop of Canterbury talks with daughters on disability and mental health Does the Archbishop favor listening to S Club 7 or the Backstreet Boys? Also on the reveal: Co-writer of The Vicar of Dibley and Spitting Image, Paul Mayhew-Archer, talks about lives with Parkinson's 10 -year-old Frasier talks about the book he has published about the refugee crisis For more Disability News, follow BBC Ouch on Twitter and Facebook, and subscribe to the weekly podcast.