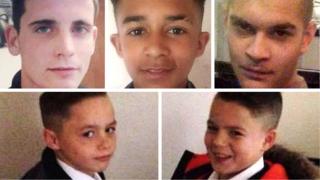 A 15 -year-old boy who caused the deaths of five people when the stolen automobile he was driving gate-crashed into a tree has been detained for more than four years.
Ellis, 12, and Elliott Thornton-Kimmitt, 14, died in the disintegrate along with Darnell Harte, 15, Anthony Armour and Robbie Meerun, both 24.
Leeds Crown Court heard the car "split in two" when it smacked a tree in Meanwood, Leeds, at 88 mph, on 25 November.
The boy admitted five countings of causing death by dangerous driving.
More tales from across Yorkshire