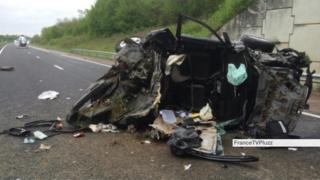 A UK father and two of his children have died in a auto crash on a motorway in east France, French police say.
The family were in a black Nissan on the A39 at Savigny-en-Revermont, near Dijon, when the car left the road at about 07:00 local experience on Sunday.
The 31 -year-old father, who has yet to be called, expired alongside "their childrens", believed to be aged four and 12.
His wife and another of "their childrens" endured and were sent to hospital with serious injuries, police say.
Witnesses added driving provisions were good and no other vehicles were involved.
They find the car turn off the road and follow through a safe barrier.
Police are trying to determine why the man lost controller of the car and are looking into the alternative he fell asleep at the wheel.
'First observations'
BBC Paris correspondent Hugh Schofield said the car left the motorway for unexplained intellects and ploughed into an embankment supporting a bridge.
Prefect of Louhans George Bos, who was in charge of the recovery procedure, alleged: "The first watchings seem to indicate that the car floated to the safety fence on the right and territory on the pier of the bridge for unknown reasons.
"We be thought that the papa may have fallen asleep or that he may have been confused by something and moved aside."
Our correspondent enunciated police were trying to find out whether the family had spanned over from the UK late on Saturday and been travelling overnight. They have issued alarms about safety on long journeys.
A Foreign Office spokeswoman alleged: "We are providing assistance following a road traffic accident in France, in which three British nationals have sadly expired and two others have been hospitalised.
"We are working closely with local authorities and supporting the families at this difficult time."