Aside from chicken pasta dishes being almost unheard of in Italy, this dinner served to the "ministers " key faculty during referendum intention in February is a carb-on-carb car crash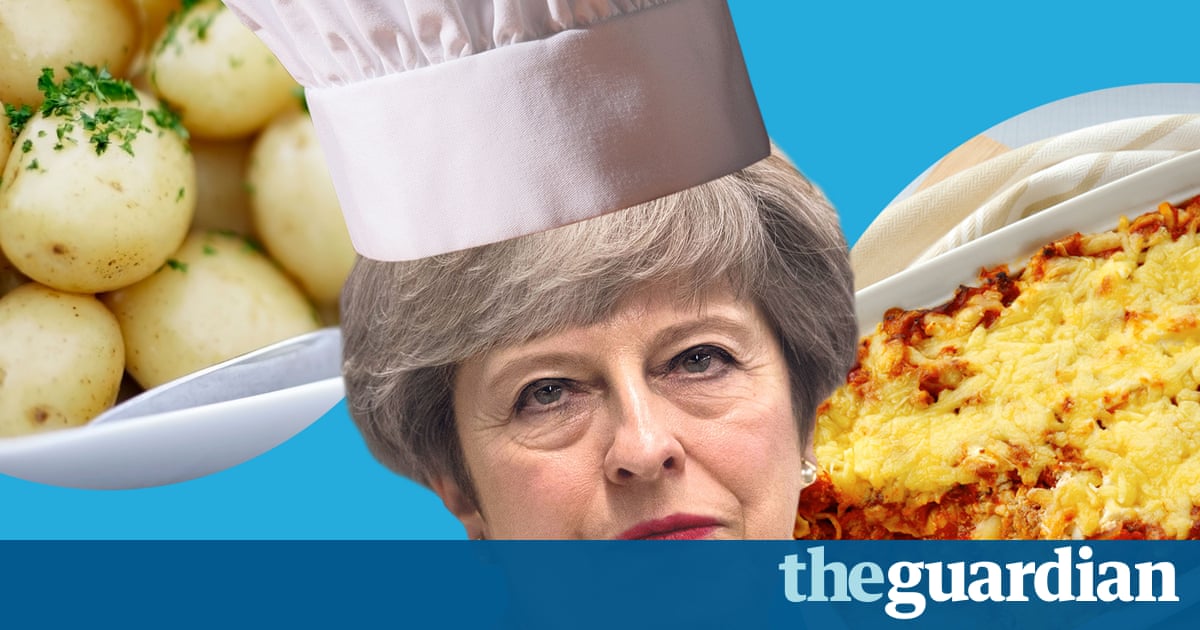 If you needed further have proven that Britain has given up on the European project, you can't get much better than the lunch the prime minister provided her top brass at Chequers in February, as they plotted their referendum strategy, as described in a brand-new journal about the 2017 campaign, Betting the House, by political reporters Tim Ross and Tom McTague. Chicken lasagne and boiled potatoes- as Lynton Crosby apparently quipped, it would be feasible to tell a lot about a captain from the menus they serve. In this case, it is clear that Theresa May cares as little about respecting the culinary traditions of fellow Europeans as she does about the sanctity of fields of wheat.
Although chicken livers are often added to a beef ragu for richness, or sauces are made with chicken broth, chicken itself is very rarely served with pasta in its homeland, reserved instead for the main course, where it might be stewed alla cacciatora or cooked with garlic and herbs. The culinary legend that is Anna del Conte pays a got a couple of sentiments for using up leftover cook chicken in her work of pasta- but never for lasagne- Marcella Hazan does not countenance putting the two together at all in her thorough Essentials of Classic Italian Cooking, and neither does that bible of cucina italiana , the Silver Spoon. Part of the reason is that chicken would historically have been expensive, but as a lean meat, it is still better simply cooked or grilled to bring out its fragile flavour.
The potatoes are a puzzle, extremely; February is still too early even for Jersey Royals, so it can't have been an expression of culinary patriotism, except perhaps in cleaving to the strange Anglo-Saxon custom of helping garlic eat with pasta- carb on carb, like a microchip butty or a potato tart( both of which would have been infinitely preferred ). Either direction, the entire route chimes stodgy and monotonou, which some of the diners may have seemed fitted the atmosphere well.
Food at Chequers is typically traditionally bred– British traditional, that is. David Cameron dished the Queen and Prince Philip lamb, potatoes and vegetables, with bread and butter pudding for dessert( with the word that Samantha sometimes grinds every morsel 50 ages to stay healthy, one hopes that the royal pair didn't have a train to catch ), while John Major plumped for salmon and Edward Heath honoured the monarch with roast sirloin of beef when she came for lunch with Richard Nixon.
The current PM is known to be a more intrepid cook, with more than 100 journals in her collection, and has cited Yotam Ottolenghi's marinaded rack of lamb with coriander and honey and Diana Henry's cooked chicken with tarragon and dijon mustard as some of her favourites; she has even decided what the hell is cook for Donald Trump if he was never shows up for supper ( slow-roasted lamb shoulder )~ ATAGEND. This becomes me be interested to know whether the pragmatic May was making a deliberate detail with her dreary menu- perhaps, in fact, she was just trying to prepare her squad for frustration. Humble pasty and custard for afters, anyone?