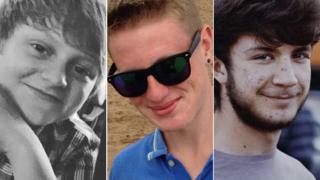 A mother whose teenage son died in a car crash has criticised proposals to ban young drivers from superhighways at night.
Dominic O'Neill, 18, was killed alongside friends Kyle Warren and Billy Hines in April 2017.
His mother Davina said a curfew was "ridiculous" and "will not work", announcing instead for tougher driving research or restrictions on engine power.
The Department for Transport( DfT) said its plans would help young operators to stay safe.
The three friends were killed when the car Kyle, 17, was driving disintegrated into trees in Pulham Market, Norfolk.
'Wake-up call'
An inquest heard he had been speeding at the time.
Cocaine and ecstasy were found in his system, though there was no evidence the pharmaceuticals contributed to the crash.
Ms O'Neill said the trio's death had sufficed as "a wake-up call" to their friends, who will mark what would have been Dominic's 21 st birthday on Friday.
"They reformed from young kids to adults overnight, " she said.
"It was as if they all changed their driving wonts. They all realised that life could resolve tomorrow."
How do you drive safely in the dark ? Image caption Hundreds of people gathered to release lights in retention of Dominic O'Neill, Kyle Warren and Billy Hines daytimes after they died Image caption Davina O'Neill guesses the new recommendations will not shape young drivers safer Hotel breakdowns on to road in huge fire Flying ant swarms appear on weather map as 'rain' eBay seller's shock at protesters' barge road block Image caption Flowers and placards were left at the scene of the crash in Tivetshall Road, near Pulham Market