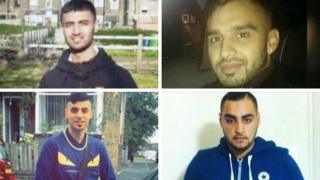 Four people who died in a vehicle crash during a police chase in Bradford on Thursday have been named.
Murtza Chaudhry, 21, Arbaaz Hussain likewise 21, Zeeshan Khalid, 20 and Tayyab Siddique, 22, all from Bradford, died in the gate-crash.
The BMW the men were in was being followed by policemen on Bingley Road before it crashed into a tree at the seam with Toller Lane at 05:30 BST.
All four souls died at the situation, investigators confirmed.
The crash was referred to the Independent Office for Police Conduct( IOPC) whose Regional Director Miranda Biddle said: "We have support in place for the families of those who have died.
"We have met with them to discuss our investigation and we will continue to update them about our work."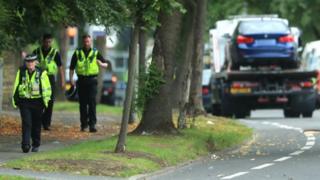 One neighbourhood tenant, who said his epithet was Zaff, told the BBC on Thursday he heard "a loud squealing followed by a raucous bang".
It was later corroborated an unmarked West Yorkshire Police car was following the grey BMW.
The IOPC said: "We are aware that there is some concern that the police vehicle built contact with the BMW prior to the crash.
"Having re-examine some of the evidence presented already, we can confirm there is no evidence of this.
"We can also confirm the time between the police car firstly having see of the BMW and the collision with the tree is nearly one minute according to the evidence we have analysed so far.
"Our investigation will focus on the circumstances of the pursuit and the actions of the officers implied, who are all being treated as witnesses."
Mark Burns-Williamson, the Police and Crime Commissioner for West Yorkshire, said he is in liaison with both West Yorkshire Police and the IOPC to "ensure the investigation into the incident is completed as appropriately and sympathetically as possible".