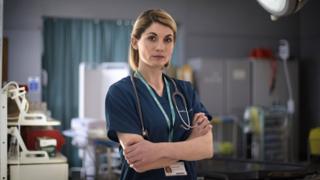 Before she takes over the lead role in Doctor Who, Jodie Whittaker will be appearing on our screens as a very different doctor … and a phony one at that.
In BBC One thriller Trust Me, Whittaker plays Cath Hardacre, a harbour who fails her profession after she diverts whistle-blower.
Wanting to provide a high quality of life for her young daughter, she steals her best friend's identity as a elderly doctor and lands a position in an Edinburgh hospital( a colleague amusingly describes the A& E district as "like Braveheart with bad-tempered pensioners" .)
Armed with her wet-nurse insight and some medical textbooks, Cath sets out to bluff her space as an experienced disaster medic.
Of course, it doesn't all depart smoothly. Trust Me contains several squirm-inducing situations of medical terms and conditions that don't go by the book
An early meeting insures her arrange a man's ruined paw having forgotten to give him an anaesthetic. Suppose the screams.
Then there's a heart-stopping – and heart-breaking – sequence involving the victims of a car crash.
"There was blood squirting everywhere, " says Whittaker, at a press screening that was held before the most recent notice she was to oust Peter Capaldi in Doctor Who.