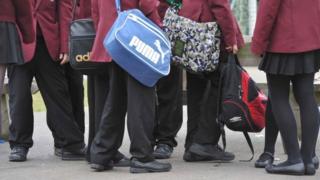 The Scottish Liberal Democrats have backed a motion calling for all schools to have gender-neutral attires for students.
Jess Insall, 15, told the party meeting that allowing daughters to wear trousers and boys to wear hems could result in happier students, better exam the outcome and even better jobs.
She announced: "It's a small step forward but it will make a huge difference."
Her call was backed by the party's UK deputy leader, Jo Swinson.
Ms Swinson recalled how she had campaigned for girls to be allowed to wear trousers when she was a student at Douglas Academy in Milngavie.
She remarked: "There is an important principle here about not segregating boys and girls according to gender.
"There's too practicalities. I read about local schools where primary school daughters were told they weren't allowed to turn cartwheels in the playground because it was 'unladylike'. As if we cast our little girls to primary school to learn how to be a lady."
'Harmful gender stereotypes'
Party members at the conference backed a motion calling on the Scottish government to require schools to provide "inclusive , non-prescriptive gender-neutral school uniform policies".
In her speech at the conference in Dunfermline, Jess thumped out about the "harm that sexist uniforms are doing to young girls".
The teenager announced: "I'm not telling anyone to take away their hems, I'm telling you all that pupils should have the freedom to dress appropriately for their personal identity regardless of their gender."
She included: "Is it actually acceptable that we dictate the space our children and grandchildren dress based on merely their gender – or in many cases the gender that culture action them to conform to? "
School adopts 'gender neutral' uniform Skirt-row school to consider trousers Boys wear skirts to institution in assert Image caption Mr Rennie utilized his speech to highlight the economic benefits he guesses in-migration brings to the UK