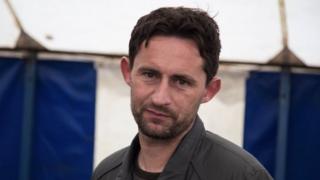 A driver made a 400 -mile detour to help a stranger remuneration a last-place call to her dying mother.
Ron and Sharleen Gillies were driving from their Edinburgh home to Cambridge when they had a minor collision on the A19 near Stockton-on-Tees.
Dean Moore encountered them by the side of the road and, sounding Mrs Gillies' mother was in her final hours, drove them to Cambridge in time to say goodbye.
He said: "I just did what anyone else would have done."
After lowering them off after the 200 -mile trip, the 40 -year-old, from North Ormesby, turned round and drove the 200 miles away, repudiating all volunteers of payment.