Rock star returns to home city for appearance on Carpool Karaoke with James Corden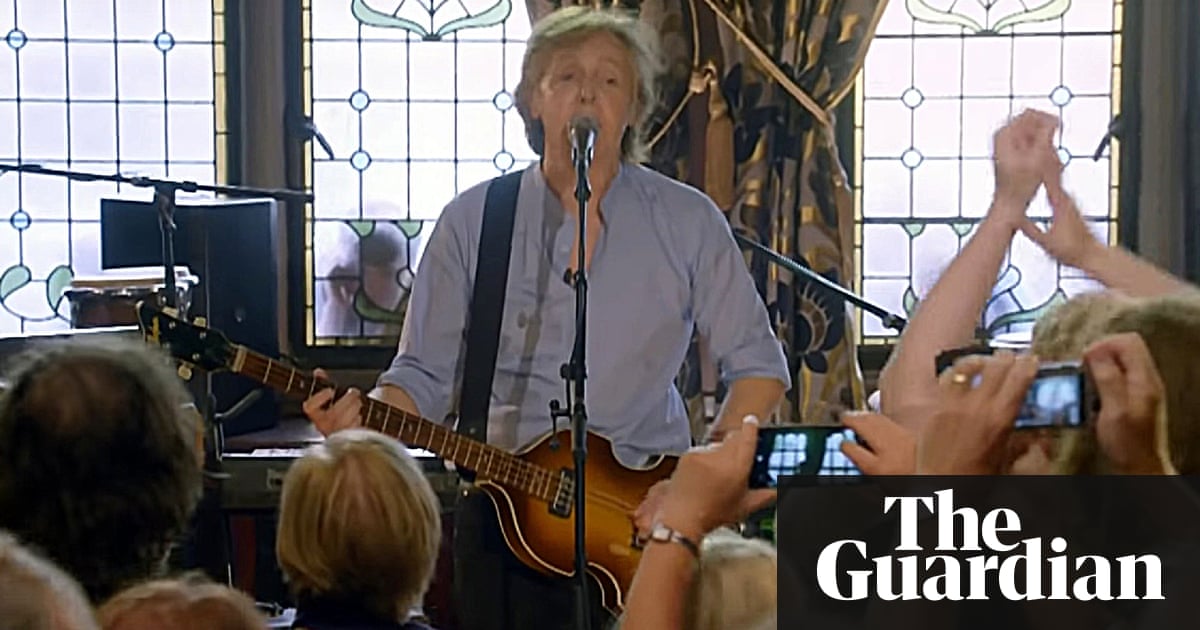 As homecoming gigs for one of the worlds biggest rock stars go, it was fairly low key: a small band on a slightly bigger stage in a local pub.
But for the drinkers who just happened to be in the Philharmonic Dining Rooms in Liverpool, seeing Sir Paul McCartney perform was probably the best gig of their lives.
There was amazement, dancing and more than a few tears when one of Liverpools most celebrated sons returned for his appearance on The Late Late Shows Carpool Karaoke with James Corden on Tuesday.
McCartney performed a piano rendition of When Im Sixty-Four as he revisited his childhood home, showing Corden the back room where he wrote songs with fellow Beatle John Lennon. Walking upstairs in the small terrace, he showed off his old acoustic chamber the toilet where he would sit, strum and sing for hours.
Describing how he and Lennon had played She Loves You to his father, McCartney recalls him asking if they could change the refrain to yes, yes, yes because there were already too many Americanisms in common use. We did not heed his advice. Had we have done, who knows what could have happened, he said.
Tweeting a link to the episode, Corden wrote: Ok, so here it is. Quite possibly the best #CarpoolKaraoke weve done so far. I hope you like it. Ill never ever forget it. Take a breath and jump in.
The pair started the show singing the Beatles hit Drive My Car, while cruising through the city, replacing the songs beep beeps with honks of the horn. On Penny Lane, they popped into a barber shop which had a picture on the wall of a much younger McCartney getting his hair cut much to the delight of the hairdresser.
Corden became emotional as the pair sang Let It Be in the car. I can remember my granddad, whos a musician, and my dad sitting me down and saying, Were going to play you the best song youve ever heard. And I remember them playing me that. If my granddad was here right now, hed get an absolute kick out of this, Corden said. Thats the power of music, McCartney replied.
McCartney harmonised with Corden singing Blackbird and his new single Come On to Me from the album Egypt Station.
But the 18-time Grammy award winner saved the best performance until last, when he appeared from behind a curtain in the Liverpool Philharmonic Dining Rooms, or the Phil, where he had played and occasionally drunk as a young man.
Within seconds, the small crowd was on its feet, and more poured through the door as word spread, as he performed A Hard Days Night, Ob-La-Di, Ob-La-Da, Love Me Do, Back in the USSR and Hey Jude.
The star said the journey back to his childhood home had made him reflect on the trajectory of his life. The distance from here to where we went, and where we are now is phenomenal.
Read more: https://www.theguardian.com/music/2018/jun/22/paul-mccartney-serves-up-surprise-performance-in-liverpool-pub