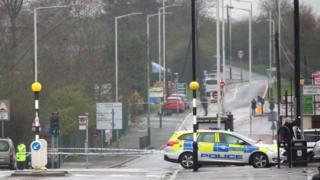 A man believed to be in his 40 s has been shot dead by police in east London, Metropolitan Police say.
He was said to be stimulating menaces in the Collier Row area of Romford, claiming he had a gun.
He was shot at a gasoline station by officers at about 04:45 BST and was enunciated dead at 05:17, the Met said.
The shooting has been referred to the Independent Office for Police Conduct( IOPC) as well as to the Met's Directorate of Professional Standards.
The IOPC said investigators had recovered a non-police weapon from the scene.
Local resident Angela Dorman was heading to work when she saw a "large police cordon" and learn "lots of police sirens".
"As I got to the Esso garage I could see white tarpaulin dealing something, there were still gloves and tissues lying on the soil, " she said.
"I could see one police officer standing on the garage's concourse."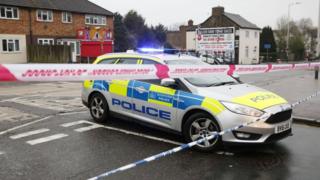 Forensics men could be seen moving a tent on to the Esso petrol station on Collier Row Road shortly before 11:00.
Tracy Green, 39, who lives about 100 grounds from the terminal, said she was woken up by two gunshots.
She pronounced: "I was just transforming over and listen 'bang, bang' and made 'oh that announced like gunshots'.
"It's crazy actually. It's too close to home."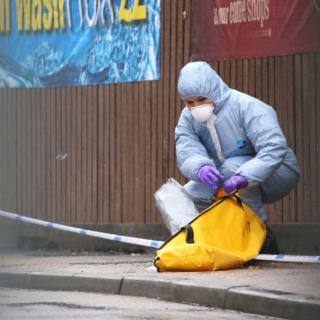 Her neighbour Darren Buckley, 50, said he saw at the least two ambulances and various police vehicles when he went outside.
He contributed: "I didn't hear gunshots, but picturing all the vehicles I thought it was a automobile crash or something, picturing all the blue lights.
"I learnt an ARV( forearmed answer vehicle) race away as well."
The IOPC are conducted by its own investigation into the fatal shooting.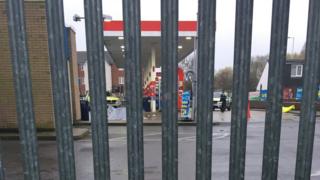 Regional director of the IOPC, Sarah Green, said the three firearms officers who were at the situation when the man was shoot had plied witness chronicles and footage from their body-worn cameras.
"We have met with the man's next of kin and we will be keeping them informed as our investigation develops, " she said.
London Ambulance Service mailed two ambulance gangs, two single responders and two happen responders to the panorama, while the air ambulance also completed a street vehicle in a bid to save the man.
So far this year, the IOPC has begun various disconnected investigations into actions involving the Met Police.
These include a 21-year-old man who was shot at 13 meters in Hackney; law enforcement officers who was filmed "striking a guy during a political protest" and two people who died while in police custody.
The IOPC said this was the first lethal hitting concerning police in England and Wales this year.