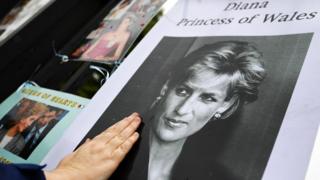 Tributes are being paid to Princess Diana on the 20 th anniversary of her death.
Dubbed the "people's princess" by then prime minister Tony Blair, she died after a gondola accident in Paris on 31 August 1997 aged 36.
On Wednesday, her sons – Prince William and Prince Harry – visited the growing floral tributes being left at Kensington Palace.
Harry told members of kindness Diana corroborated, "all of us lost somebody".
How has Princess Diana's demise changed the Royal Family ? Diana's embrace: The legacy she left her sons In illustrations: Diana, Princess of Wales Image caption Sovereign William and Harry called salutes at the doors of Kensington Palace on Wednesday Princess Diana remembered: 'I left buds in 1997 ' 'The day I filled Princess Diana' Media captionJennie Bond: 'It was a kind of mass hysteria' Image caption People left tributes near to the Alma Bridge tunnel where the clang happened 20 years ago Image caption Members of the public are laying homages at Kensington Palace