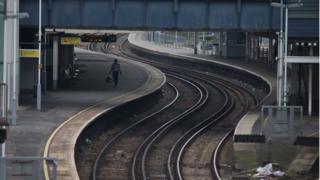 Rail fares face disturbance over the Christmas season, with 200 creates of engineering works feigning up to 10% of the railways.
Network Rail, which maintains the UK's railways, said carrying out handiworks over the festive season would have the least accomplish on the travelling public.
London, Manchester and Cardiff are among the cities punch, and the Heathrow Express will be suspended for six days.
Meanwhile, the M1 from conjugation 12 to 13 has reopened after an earlier crash.
A spokeswoman for Bedfordshire police said two beings lost life-threatening injuries in a three-car accident on the motorway between Flitwick/ Woburn interchange and the Bedford turn-off.
Several people were also taken to hospital, while others were treated for less serious injuries, she added.
Both the northbound and southbound carriage were closed, but had now been reopened.
Tunnel delays
Elsewhere, there have been retardations on the M55 in Lancashire after a prowl car collided with a vehicle it was following, near conjunction one of the eastbound carriageway.
One carriageway has been completely closed, and one serviceman has been arrested on hunch of dangerous driving.
There are also procrastinates through the Eurotunnel, following an accident in one of the passages. Eurotunnel said both tunnels were now clear, but there was a wait times of about two-and-a-half hours for some passengers.
The AA motoring radical said Friday – which had been expected to be the busiest periods of the season as travellers drove residence for Christmas – had been "fairly steady".
Meanwhile, Storm Barbara has hit parts of the UK for a second day.

Traffic and weather news on the BBC
Christmas travel: What you need to know Severe gales due across Scotland as Storm Barbara moves in Storm Barbara excursion disruption telling for Wales BBC Travel BBC Weather Image caption Professional big-hearted movement surfer Al Mennie braves these components in Coleraine, Northern Ireland Image caption There have been heavy snowfalls in parts of the Highlands Image caption Met Office weather forewarns for Storm Barbara and Boxing Day's Storm Conor