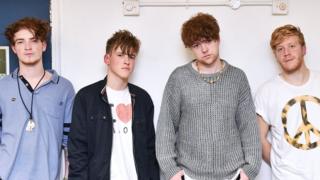 Five British nationals have died in a vehicle gate-crash in Sweden, the Foreign office has said.
It is understood all four members of the indie circle Viola Beach – Kris Leonard, River Reeves, Tomas Lowe and Jack Dakin – died in the accident.
The fifth scapegoat is believed to be the band's director Craig Tarry.
The car dashed more than 25 m (8 2ft) into a canal from a highway bridge, which had opened to let a boat pass, near Stockholm on Saturday morning.
"We are in contact with local authorities and supporting the families at this very difficult time, " the Foreign Office said.
'Swings and Waterslides'
The Warrington-based banding were due to play a gig in Guildford in Surrey on Saturday, but it was cancelled. They had been part of the line-up for Swedish music gala Where is the Music? on Friday.
The four-piece secreted their introduction single Swings& Waterslides last year and had peculiarity on BBC Introducing, which showcases up-and-coming music artists.
The band's last upright on Facebook was on 2 February, when they wrote about playing a gig in the US next month.
Tributes ought to have pouring in on social media for the band.
Travis lead singer Fran Healy tweeted: "So sad. @Viola_Beach 🙁 "
Ross Jarman, from The Cribs, tweeted: "Heart disappears out to the Viola Beach guys and their families."
Indie rock band, The Enemy, tweeted: "RIP Viola Beach and their manager. Such unbelievably disastrous and sad bulletin. Guessed with the friends and families of all involved x"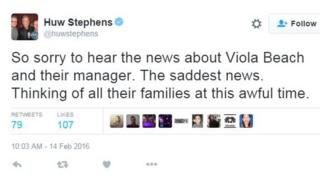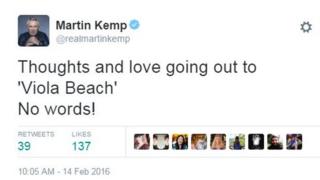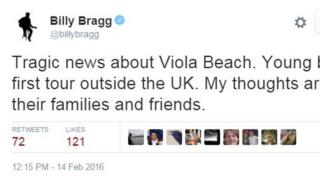 ---
Viola Beach
Four-piece clique from Warrington, Cheshire Kris Leonard – guitar, lead vocal; River Reeves – guitar; Tomas Lowe – bass; Jack Dakin – drums Secreted introduction single Swings& Waterslides last year Played various BBC Introducing Sessions Performed at Reading and Leeds Festival in 2015 Media captionArchive footage of Viola Beach performing for BBC Introducing Image caption The vehicle was towed from the canal for the purposes of the E4 highway bridge near Stockholm Image caption The collision happened in the early hours of Saturday morning in Sodertalje Image caption The bridge has a middle section that rises directly upwards, rather than tilting