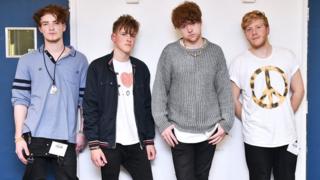 Viola Beach have entered the singles graph at numeral 11, a week after the Warrington band died in a car crash.
Tomas Lowe, Kris Leonard, River Reeves and Jack Dakin expired along with director Craig Tarry on Saturday while on tour in Stockholm.
They were killed when their gondola immersed more than 25 m (8 2ft) from a highway bridge into a canal.
Fans have since been campaigning to get their chant Swings& Waterslides to number one.
The single reached the top of the Apple iTunes graph but has just missed out on the official top 10.
An investigation into what stimulated the gate-crash is still ongoing.
It's been claimed there used to be safety roadblocks and red light in place.
The single reached the top of the Apple iTunes chart but has just missed out on the official top 10.
Danish quartet Lukas Graham have topped the chart for a second week with their single 7 Years.
The group's lead singer, who the band was identified after, supposed: "7 Times seems to have attracted a lot of age groups – parties seem to see their own lives in the hymn and it's great to see so many parties reacting in that room to it."
Former One Direction member Zayn Malik takes second place in the singles plot with Pillowtalk, while Rihanna, Jonas Blue& Dakota and Shawn Mendes end the Top 5.
Over on the album map, Adele's 25 rises to the crown after her figure at the Grammys on Sunday.
The boost in auctions is despite her off-key live rendition of album way All I Question at the ceremony.
She explained afterwards that a microphone had descended on the piano strings, inducing her to sound out-of-tune.
Elsewhere on the chart, David Bowie stumbles collecting Best of Bowie continues to sell well after his death, climbing to number two, while Justin Bieber's album likewise advances to count three.
Ronan Keating tallies the highest brand-new entry of the week, with Time Of "Peoples lives" becoming his eighth book to contact the top 10.