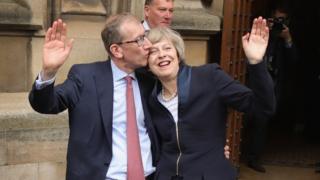 Theresa May is the new Conservative Party leader and will become the UK's second girl prime minister on Wednesday, taking charge at one of "the worlds largest" stormy times in recent political record.
The 59 -year-old home secretary's carefully grew image of political dependability and unflappability appears to have shaped her the right being at the right time as the fallout from the UK's vote to leave the EU smashed possible adversaries out of contention.
Long known to have encouraged leadership hopes, Mrs May – whose pals recall her early ambition to be the UK's first female PM – have been able to reasonably expected to have had to wait until at least 2018 to have a shot at Downing Street.
But the EU referendum which David Cameron called and misplaced – the year after leading the party to its first ballot acquire in 23 years – transformed political certainties on their pate and, as other candidates fell by the wayside after the PM's own abandonment, Mrs May developed as the "unity" candidate to replaced him.
That her party should rally round her at such a epoch of national uncertainty is testament is not simply to the respect in which she is held across the party but given the fact that, in a nature where political reputations can be shredded in an instant, Mrs May is the eventual political survivor.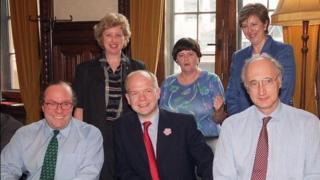 In the early days at Westminster she became known for her exuberant selection of footwear – her kitten heels grew famed in political circles in the noughties, while she appointed a lifetime subscription to Vogue as the indulgence item she would take to a desert island.
But it is her toughness which has become her political trademark. She has coped with represent one of only a small number of women in the upper echelons of the Conservative Party for 17 years and has been prepared to tell her defendant some hard truths – famously advising activists at the 2002 conference that "you know what some people announce us – the nasty party".
---
Who is Theresa May?
Date of delivery: 1 October 1956( aged 59) 1 October 1956( aged 59) Chore: MP for Maidenhead since 1997. Home Secretary since May 2010 MP for Maidenhead since 1997. Home Secretary since May 2010 Education: Principally state-educated at Wheatley Park Comprehensive School with a brief hour at an independent school; St Hugh's College, Oxford Mainly state-educated at Wheatley Park Comprehensive School with a brief epoch at an independent school; St Hugh's College, Oxford Family: Wedded to Philip May Married to Philip May Pastimes: Cooking – she says she owns 100 recipe journals. Occasional mountain treads. On BBC Radio 4's Desert Island Discs in 2014, she chose Abba's Dancing Queen and Walk Like A Man, from the musical Jersey Boys, among her selects, alongside Mozart and Elgar. Cooking – she says she owns 100 recipe works. Occasional mountain marches. On BBC Radio 4's Desert Island Discs in 2014, she chose Abba's Dancing Queen and Walk Like A Man, from the musical Jersey Boys, among her selects, alongside Mozart and Elgar. On her party's future: "( It is) no less than the patriotic office of our party to unite and to determine in the best interests of the whole country. We necessary a daring, new positive perception for the future of home countries – a country that works not for a privileged few but for every one of us." Says people want more than just a "Brexit PM" and has vowed to mix the Leave and Remain factions in the party. Image caption Theresa May married her husband Philip in 1980 Image caption The young Theresa Brasier at a function in the hamlet hallway Image caption Theresa May is seen here as small children with her mothers Hubert and Zaidee Media captionA look at Theresa May's outing to the top place Image caption Mrs May first stood for Parliament in 1992 in North West Durham Image caption Theresa May has described her husband Philip as her rock-and-roll Image caption Theresa May bulges into rock-and-roll adept Alice Cooper outside a BBC studio in 2010 Image caption Theresa May initially fell down the pecking order under David Cameron but wielded her practice back up Image caption Mrs May has met what she sees as vested interests in the police Image caption The brand-new "ministers " is a self-declared feminist Image caption Mrs May's savour in footwear has stopped photographers interested for more than a decade Image caption Mrs May has worked closely with David Cameron and will now supersede him Image caption Mrs May has been the most senior female Cabinet minister for the past six years