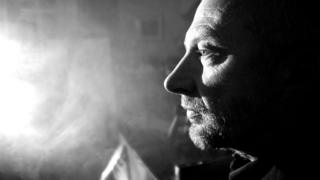 Singer-songwriter Colin Vearncombe, who performed under the refer Black, has died at persons under the age of 53, 2 week after being injured in a gondola crash.
The Liverpool singer, whose 1987 single Wonderful Life was a crown 10 smack around the world, suffered psyche traumata in the gate-crash in Ireland on 10 January, and was placed in an induced coma.
He croaked on Tuesday surrounded by their own families in infirmary, his publicist said.
His wife Camilla said she was "deeply grateful" to staff who cared for him.
The father-of-three, who was in intensive care at Cork University Hospital, "died peacefully" with their own families at his slope "who were singing him on his way", a statement said.
Fellow Liverpool musician Pete Wylie of 80s party The Mighty Wah! paid tribute to his friend on Twitter, saying the word was "just so very sad".
"I want to send all the love I can muster to Colin's mothers, brother& spouse+ to all who loved him, and who he enjoyed too, " he wrote.
"I could still sing the very first psalm Colin recorded with me in the WAH! studio. I remember it that clearly. And that voice! "
'I'm no schmoozer'
Born in Liverpool in 1962, Vearncombe had his first top 10 hit with the single Sweetest Smile in June 1987 when he was 25 years old.
His second thump psalm Wonderful Life, which he had previously released but only got to number 72 in the charts, realise the top 10 in the UK, Switzerland, Germany, France, Austria, the Netherlands and Italy.
However, despite having found renown, Vearncombe later said "the pop star life" was not as he had envisaged it.
"I was annoyed by how few of the people in the music world-wide I respected. Perhaps I merely didn't go to the right organizations. I've never been a great schmoozer or networker and the relevant recommendations of setting out to meet any particular type of people is anathema to me, " he said.
"It was two years of disappointment – I didn't have any wild fornication, I'm not a druggie, so I was just excavating a pit for myself."