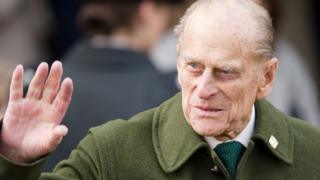 The Duke of Edinburgh has written to a woman injured in a car crash he participated in near Sandringham in Norfolk to say that he is "deeply sorry".
Prince Philip wished Emma Fairweather a "speedy recovery", adding that he was "somewhat tottered after the accident".
The 97 -year-old recommended he did not construe the car she was a passenger in on 17 January because of bright sun.
His Land Rover Freelander crashed with a Kia driven by Ms Fairweather's friend after he pulled out of a driveway.
The duke's vehicle flipped over in the accident, which took place on the A149 near the Queen's country estate, and he was helped out by a lead motorist.