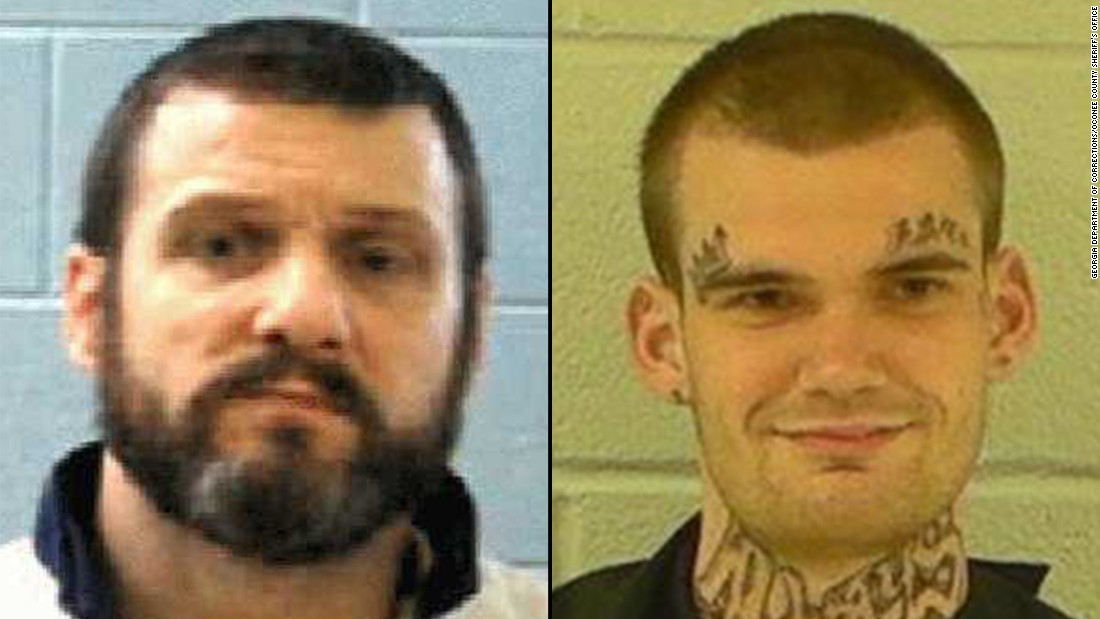 (CNN)Two inmates from Georgia suspected of killing two corrections officers in an escape from a prisoner bus this week have been captured after a chase in Tennessee that involved gunfire, authorities said Thursday.
Donnie Russell Rowe, 43, and Ricky Dubose, 24, were taken into custody after two armed residents held them at gunpoint after they tried to steal a car from a home near the site where they left a wrecked Jeep Cherokee on Interstate 24, Lt. Bill Miller from the Tennessee Highway Patrol said late Friday.
The wreck followed a chase in which the escapees fired on Rutherford County deputies. Several SUVs were hit, but no one was injured, Sheriff Mike Fitzhugh said.
The capture put an end to a multistate manhunt that lasted nearly 60 hours after the inmates escaped Tuesday morning in Putnam County in central Georgia.
While they were on the run, the pair allegedly stole five vehicles, robbed two homes, tied up and terrorized an elderly couple, and led police on a chase where speeds reached 100 mph.
Miller said the 10-mile chase Thursday on I-24 south of Nashville was hundreds of miles from where they escaped.
In Georgia, Putnam County Sheriff Howard Sills told reporters no one was wounded and the inmates gave up after about 15 minutes in the trees beside Interstate 24.
"I'm happy. I'm elated, but I'm still tremendously sad about these (deceased) officers," Sills said about the capture nearly 60 hours
Sills said Dubose and Rowe ditched a truck they stole in Madison, Georgia, about 260 miles away in Moore County in Tennessee on Thursday. There the two apparently stole a car, which they drove to a house in Bedford County. They robbed an elderly couple there and stole another vehicle.
Law enforcement officers saw that stolen vehicle and a chase ensued until the escapees crashed and ran from the wreck.
Shots were fired, authorities said.
Dubose and Rowe ran from the vehicle to the woods. They were discovered by a homeowner who called his neighbor and they each grabbed a gun. The fugitives lost their weapons in the crash and surrendered, authorities said.
Tuesday escape
Rowe and Dubose were on a state corrections bus with 31 other prisoners Tuesday morning when the two somehow got out of what should have been a locked, gated rear section of the bus, police said.
The men entered the driver's compartment, overpowered and disarmed Officers Christopher Monica and Curtis Billue while the bus was on State Route 16 between Eatonton and Sparta, police said.
At least one of the escapees shot and killed the officers, authorities said.
Monica, 42, a sergeant, worked for the department for almost eight years and leaves a wife. Billue, 58, a 10-year employee, is survived by his father, brother and sister, Georgia Department of Corrections Commissioner Greg Dozier said.
Rowe was serving a sentence of up to life in prison for armed robbery and aggravated assault in a 2001 case.
Dubose was sentenced to up to 20 years in prison for armed robbery, aggravated assault and theft in 2014. He also was convicted of theft and identity fraud in cases from August 2010.
They most recently were housed at Baldwin State Prison near Milledgeville. They and the other prisoners were being transported Tuesday to the Georgia Diagnostic and Classification Prison, some 45 miles west of Eatonton.
The other prisoners on the bus Tuesday were taken to the Putnam County Sheriff's Office and put on another corrections department bus.
Read more: http://www.cnn.com/2017/06/15/us/escaped-georgia-inmates-captured/index.html