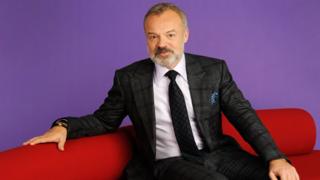 It would be easier to list the celebrities who haven't appeared on The Graham Norton Show than those who have.
The BBC One chat show is a crucial stop on the promotional tour for stellars who are propelling a new movie, volume or album – but you too get the impression it's the one they most enjoy.
Jessica Chastain made a point of saying it's her "favourite show" as she sat down on the far-famed blood-red couch earlier this year. Matt Damon said his appearance "the most fun I've ever had on a chitchat show". Norton's is the sofa of choice for Will Smith, Dwayne Johnson and Tom Hanks whenever they're in town.
But perhaps the key rationale for the show's success is the combination of the celebrities who appear. It's hard to forget June Brown and Lady Gaga, or Miriam Margolyes with Will.I.Am. The chemistry( or scarcity thereof) is something that often takes Norton himself by surprise.
"Usually you don't know what's going to happen, " he tells BBC News. "You is impossible to cook it so much better, you line up those ingredients, and you don't know whether you're going to poison the society or delight them with the lovely confection!
"Those combinations on the couch, they're pre-determined or pre-mediated to an extent … but there's an alchemy on the night that you simply can't predict."