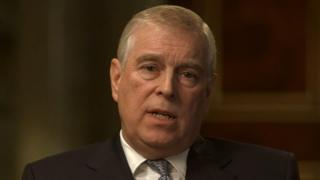 A letter written to the Times newspaper by Buckingham Palace has cast doubt on when the Duke of York first satisfy imprisoned sexuality crook Jeffrey Epstein.
The 2011 note says they met in the early 1990 s , not in 1999 as Prince Andrew said in his BBC interview.
It comes as the duke faces a proliferating backlash after he said he did not regret his relationship with Epstein.
Buckingham Palace said the prince's words is talking about themselves and he stands by his recollection of events.
Writing to the Times in March 2011, the duke's then private secretary Alastair Watson aimed to address "widespread comment" about the relationship with the New York financier, who died in prison this year awaiting trial on sexuality trafficking charges.
He said Prince Andrew had known Epstein "since being introduced to him in the early 1990 s", but rejected the "insinuations and innuendos" as "without foundation".
Prince Andrew stands by 'car-crash' interview Epstein's accusers 'failed by royalty' – lawyer Six things we learned from Prince Andrew interview Image caption The duke was painted with Ms Giuffre in Ghislaine Maxwell's London home in 2001 Media captionPrince Andrew on Epstein: 'There was no indication, absolutely no indication' Pharmaceuticals companionship AstraZeneca and Hult International Business School, are reviewing their partnerships with Pitch @Palace Outward Bound, the benevolence the Duke of Edinburgh was patron of for 65 times, has called a board meeting to discuss the prince's patronage London Metropolitan University, said it will consider the prince's role as its patron, saying it "opposes all forms of discrimination, abuse and human trafficking" University of Huddersfield students are calling for the lord to be sacked as their chancellor Four Australian universities rostered as partners of Pitch @Palace Australia – Bond University, Murdoch University, the University of Wollongong and the Royal Melbourne Institute of Technology – said they had either resolved their relationship with its own initiative or would not be continuing it Image caption The prince said he regretted this 2010 meeting with Epstein