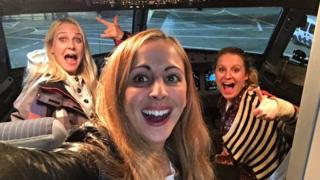 Three British Airways fares had a once-in-a-lifetime flight after encountering the latter are the only ones on board.
Lawrie-Lin Waller, 33, told me that she and her friends were upgraded to business class, treated to bottles of champagne, and constituted for selfies with the captain.
And on their errand from Gibraltar to Heathrow on 17 December, her friends Laura Stevens, 34, and Sarah Hunt, 35, experienced three-course meals.
Ms Waller said: "We're never going to experience anything like that again."
---
You might also like…