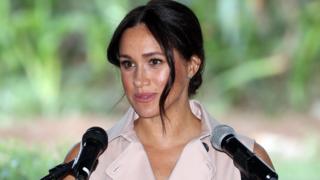 The Duke of Sussex has told an event in Johannesburg that he and his wife will "seek to challenge injustice".
His observations come a era after it emerged that they were taking action at law against the Mail on Sunday for publishing a private word sent by the Duchess of Sussex to her father.
The duke said the legal action was in response to "relentless propaganda".
The paper says it will defend itself vigorously and stood by the story it wrote.
On the final day of their 10 -day overseas tour, Prince Harry set out what he speculates his capacity in public life should be, "says hes" and the duchess would "stand up for what we believe".
Africa's 'embrace'
Speaking to a group of young people and fledgling entrepreneurs in Tembisa township, near Johannesburg, the duke said: "We are fortunate enough to have a position that generates us astonishing opportunities and we will do everything that we can to play our part in building a better world.
"We will likewise seek to challenge injustice and to speak out for those who may feel unheard.
"So no matter your background, your nationality, your age or gender, your virility, your physical ability , no matter your event, or colour of your skin – we believe in you.
"And we are aiming to expend our entire lives constituting sure that you have the opportunity to succeed and modify the world."
Prince Harry went on to reminisce about a see to Africa in the months following the sudden death of his mother Diana, Princess of Wales.
"Ever since I came to this country as a young boy, trying to cope with something I could never perhaps describe, Africa has maintained me in an hug that I will never forget and feel incredibly fortuitous for that, " he said.
"Every time I come here I know that I'm not alone. I ever feel wherever I am working on this continent that local communities around me supports a life that is enriching and is rooted in the simplest things – connection, joining with other persons and the natural environment."
Prince Harry said he wanted to teach his baby son Archie the lessons he had learned from Africa, including those about "community and friendship".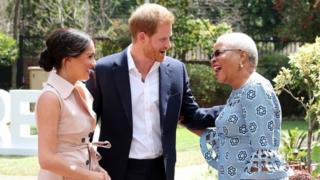 Later, in a speech at the Johannesburg residence of Britain's high commissioner, the duchess said beings have the power to change a macrocosm that seems "aggressive, confrontational and dangerous".
Meghan told designers, entrepreneurs and business people: "Whether you're here in South Africa, at home in the UK or the US, or various regions of the world, you actually have the supremacy within you to change things, and that starts with how you connect to others."
Later in the day, the duke and duchess fulfill Nelson Mandela's widow, Graca Machel. She offered to work with the couple, who propel their Sussex Royal Foundation next year.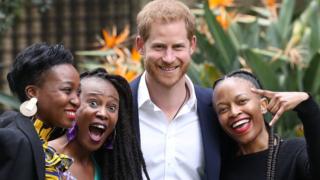 The law firm Schillings, acting for the duchess, has registered a High Court claim against the Mail on Sunday and its parent fellowship – Associated Newspapers – over the alleged misuse of private message, infringement of copyright and breach of the Data Protection Act 2018.
The duchess's action comes after the newspaper published a handwritten letter she cast her parent shortly after she and Prince Harry got married in 2018.
The paper is accused of an "intrusive and illegal publishing of a private letter" and of a campaign of publicizing false-hearted and disparaging narratives about the Duchess of Sussex.
Sometimes there are exclusions to copyright which can allow part of a note or record to be published, for example for reporting current events.
But even if this is used, under what is known as the "fair dealing" defence, brochures have to strike a balance between public interest and the interest of the copyright owner.
Referring to his late mother Diana, Princess of Wales, Prince Harry said his "deepest fear is history repeating itself".
In a lengthy personal testimony on the couple's official website, he said the "painful" impact of obtrusive media coverage had driven him and his wife to take action.
Meghan talks about tackling violence against wives Harry cross minefield and retraces Diana's steps Baby Archie fills Archbishop Tutu on imperial tour Media captionEarlier on in their tour of Africa, the couple inserted newborn son Archie to Archbishop Desmond Tutu