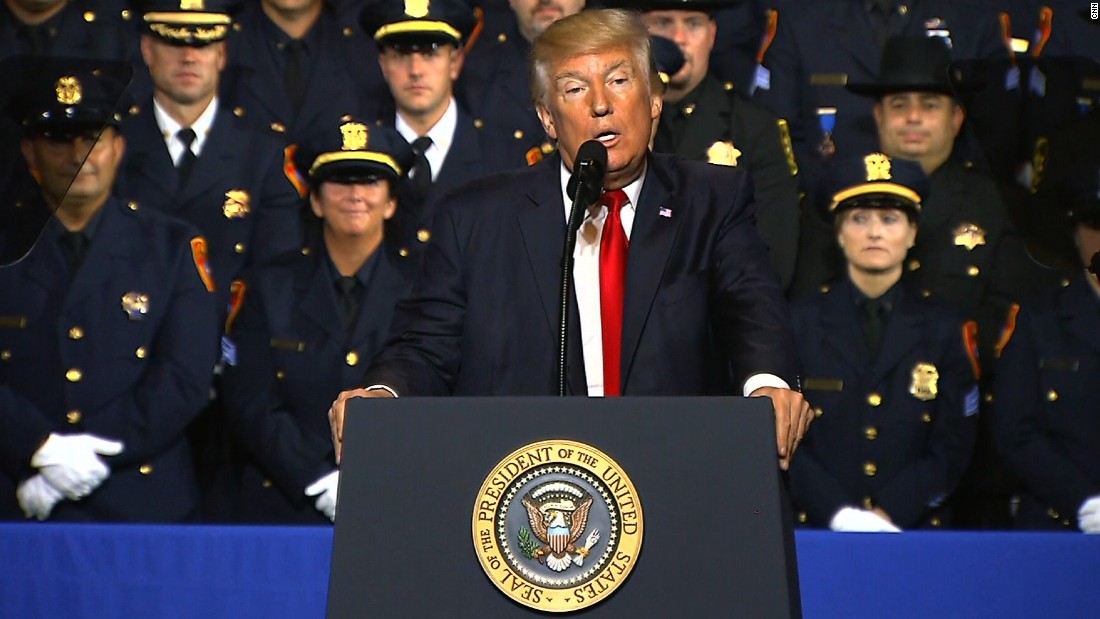 (CNN)President Donald Trump addressed the International Association of Chiefs of Police Annual Convention in Orlando Monday afternoon, voicing support for "stop and frisk" policies and touting the success of his Supreme Court pick, Brett Kavanaugh.
"It works and was meant for problems like Chicago," he said.
"And Rudy Giuliani, when he was mayor of New York City, had a very strong program of stop and frisk and it went from an unacceptably dangerous city to one of the safest cities in the country and, I think, the safest big city in the country. So it works. Gotta be properly applied, but stop and frisk works," he added.
The association
represents
some 30,000 members of law enforcement within 150 countries.
Trump in his speech blamed "evil" people for putting Kavanaugh in a "disgraceful situation" during his confirmation process, referencing the allegations of sexual assault the incoming Supreme Court justice faced.
"He's a great person and it was very, very unfair what happened to him. False charges, false accusations, horrible statements that were totally untrue that he knew nothing about," Trump said.
The President lauded Kavanaugh before the law enforcement group, saying he "will be a faithful defender of the rule of law."
Trump also announced an additional $42.4 million dollars in grants toward the High Intensity Drug Trafficking Areas program, which is administered by the White House Office of National Drug Control Policy.
"This grant program will go to funding more than 50 innovative projects targeting the greatest drug threats facing the United States," Trump said.
"We believe that criminals who kill our police officers should immediately with trial, as rapidly as possible, not 15 years later, 20 years later, get the death penalty," he said.
Trump told a group of law enforcement officers: "When you see these thugs being thrown into the back of a paddy wagon, you just see them thrown in, rough, and I said, 'Please don't be too nice.'"
"Like when you guys put somebody in the car and you're protecting their head, you know, the way you put their hand over, like, don't hit their head, and they've just killed somebody … Don't hit their head, I said, 'You can take the hand away, OK?' " he added.
The group responded Trump's remarks with a statement, saying that "managing use of force is one of the most difficult challenges faced by law enforcement agencies."
Deputy Attorney General Rod Rosenstein also attended the President's speech in Florida. Rosenstein spoke with the President for about 45 minutes aboard Air Force One en route to the convention, White House deputy press secretary Hogan Gidley said.
White House chief of staff John Kelly and Ed O'Callaghan, the acting principal associate deputy attorney general, were also in attendance.
Trump thanked Rosenstein during his speech.
"Thank you as well to Deputy Attorney General Rod Rosenstein for being here," Trump said. "The press wants to know 'What did you talk about?' We had a very good talk. That became a very big story, actually. We had a good talk."
Boarding Marine One Monday morning, the President told members of the press that he and Rosenstein will be "talking on the plane" and noted that they "actually have a very good relationship."
"I didn't know Rod before, but I got to know him and I get along very well with him," Trump said.
The President told reporters on Monday that he has no plans to fire Rosenstein.
"No, I don't. No," Trump said when asked.
Trump said last week that he didn't want to meet with Rosenstein to discuss the issue until Kavanaugh was confirmed.
Read more: https://www.cnn.com/2018/10/08/politics/donald-trump-police-chiefs-florida/index.html